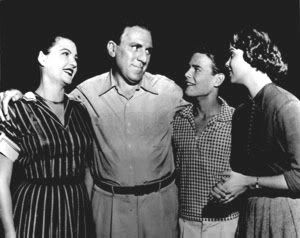 The Life of Riley



Riley's catch phrase--"What a revoltin' development this is!"--expressed his frustration and became part of the national idiom.





I'm fed up lately.

With Blogger (well, with a lot of things, but Blogger will do for starts).

T

hanks to Deb Geyer's sensational new look I don't need a further push to revolt and leave Blogger behind, saying hello to WordPress or TypePad.

But that will have to wait a bit because of a related revolt.
I've left GatesWorld behind (as much as he'll allow us to) and jumped the Internet Explorer ship. I stupidly downloaded the new Internet Explorer 7 (it won't be voluntary come November) and it wrought havoc with my desktop. Some of you might consider me the wee-ist bit perfectionistic, but damn it I want to design my own desktop, thank you very much, Mr. G. With endorsements from Deb and Rian, and encouragement from our itinerant office computer guy ("Great! Everybody should be using it!"), I'm now browsing cyberworld with Mozilla Firefox. It's only been a couple of days (both at home and at the office) so I'm still getting acquainted with the interface. I've had a couple of "Oops! I was making that little feature way too hard!" moments before realizing Firefox is indeed quite simple to use. Once I feel totally at home with it, the look of the blog will be changing too.
Now that the season has changed, I'm thoroughly fed up with my revolting wardrobe. When I gained weight and wrinkles, I lost interest in being a clotheshorse. Besides, it's way more fun to spend $ on fabric to cover my bed than fabric to cover my bod'. So I've let updating my duds fall by the wayside for the past couple of years. When you don't freshen a wardrobe regularly, you feel like a drudge eventually. So I hied myself off to Chico's this week for one of my formerly semi-annual feeding frenzies. (I go in, try on everything in the store, then buy several hundred dollars' worth of stuff—then never darken the door for another 6 months.) Trying to operate on the inventory principal of 1 out for every 1 in, I've been weeding perfectly good items that are unflattering or I simply can no longer look at. (If only the rest of life were so simple.)
I'm a visual chick (as are you), so I'm craving a new look in many ways. That's why I'm revoltin'.